Northampton Market refurbished fountain 'not spectacular'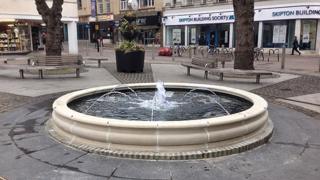 Work on a £50,000 fountain refurbishment designed to "attract more shoppers" to Northampton market has left local people underwhelmed.
The original ground-spurting £98,000 seven-jet installation built four years ago was turned off in 2012 after traces of legionella were found in the water.
Residents told BBC Radio Northampton the new fountain was "not spectacular" and a "complete waste of money".
But a public consultation voted in favour of the refurbishment work.
A Northampton Borough Council spokesperson said: "Unfortunately we had no choice but to switch off the old fountain because of contamination and the possibility it could be a danger to the public.
"Last year we consulted with the public and the majority of those who replied said they wanted the fountain to be improved and switched back on.
"The new refurbished fountain is a great addition to the entrance of the market square, and provides a welcoming area for people to spend time in and relax."
More than 300 people took part in a consultation over the fountain in which 58% agreed the borough should remodel the water feature and turn it back on.