Corby Town football fan fund reaches milestone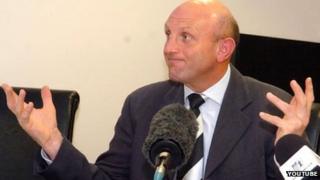 A supporters' fund set up to stop a non-league football club going into administration has reached two-thirds of its target in just five days.
Corby Town faces collapse, claiming it is owed £200,000 by Corby Borough Council, which the authority disputes.
But an online fund, backed by a social media campaign and a dramatic YouTube plea, has helped raise almost £2,000.
Robbie Dunion, club website editor and fund creator, gave a "huge thank you" on Twitter to people who had donated.
The Steelmen claim they are owed money as part of a deal struck in 2007, which would see the club paid £90,000-a-year to manage the Rockingham Triangle community sports facility, based around the team's Steel Park home, which was built with council money.
Boycotted matches
However, the authority said the club's claims contain "factual inaccuracies" and is seeking legal advice.
The club's financial crisis has led to unrest, with players boycotting matches over unpaid wages.
Mr Dunion said the club hoped to raise £3,000 and any money it received would not go to the current chairman or the board, but would be placed into a "discretionary fund" to help save the club from administration, or help it exit administration if that was not possible.
Any money spent would also be fully receipted and expenditure pre-authorised by the trustees, he added.
A regular car boot sale is also in the process of being set up at the ground by Corby fan Joe Sims to raise money for the Southern League Premier Division side.