'Jason mask' attackers sought by Northamptonshire Police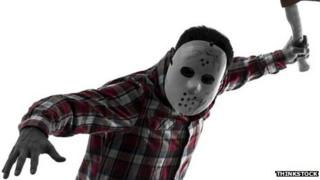 A man has been attacked by three men in masks similar to those worn in the Friday the 13th films, police said.
The 34-year-old victim was pushed against a wall and threatened with a knife in Steene Street, Northampton.
He said he had no money and the men in the Jason Voorhees-style hockey masks then left empty-handed.
The attack on 14 April is being linked to a recent incident in Duston where a woman said three people wearing hockey masks knocked on her door.
She put a security chain on the door before answering, and the people left after asking for some cigarettes.
Police have asked for anyone in the area who sees people with the masks to come forward.