Patient at Northampton General Hospital trapped in loo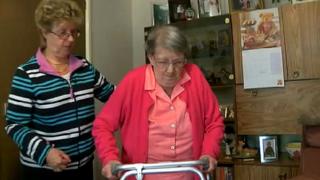 An 87-year-old claustrophobic woman with a fractured pelvis was left locked in a hospital toilet for over an hour.
Annie Stanley was taken to the toilet at Northampton General Hospital, but staff did not hear when she pulled a broken emergency cord asking to be let out.
Mrs Stanley said she was "scared" and in pain and had to crawl to the door to call for help.
The hospital said an investigation into the incident was under way.
Mrs Stanley, from Hardingstone, said: "I was scared, I thought I'm never going to get out of here. I really was ever so nervous.
"I pulled the emergency cord, it wasn't working. I managed to crawl to the door and unlock and open the door. I called and I called and I called and there were no answers."
Her daughter Gwen Greenaway told BBC Look East: "In hospital you expect people to be safe."
A spokesman for Northampton General Hospital said: "We are very sorry to hear this report about Mrs Stanley's care, and apologise for the distress this must have caused her.
"We are investigating this incident in detail but would like to assure the public that our staff care very deeply about the welfare of their patients and are extremely upset that this has happened.
"We will do everything in our power to ensure that something similar cannot happen again.
"We have also taken immediate action by implementing an audit programme to ensure that we can evidence regular testing of all emergency bells and call bells on a daily basis."