Northampton's Egyptian statue sale to help fund £14m museum growth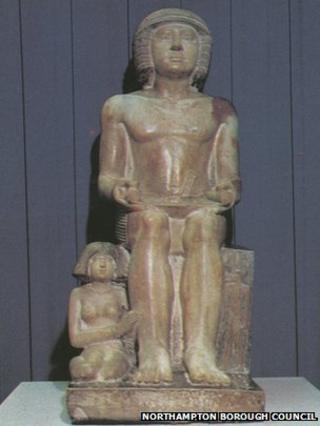 The sale of an ancient Egyptian statue, said to be worth up to £6m, is to help fund a £14m extension to Northampton Museum and Art Gallery.
The proceeds of the sale of Northampton Borough Council-owned Sekhemka will be shared with Lord Northampton whose family "gifted" the statue in 1880.
The 4,000-year-old statue depicts a priest or court official.
The council aims to double exhibition space at the museum as well as creating new galleries and teaching facilities.
The new development will position Northampton as a leading regional museum focused on history, art and Northampton's footwear heritage, a spokesman said.
The Conservative-run council wanted to sell the statue, after it was previously valued at £2m, because of high insurance and security costs.
This move was challenged by Lord Northampton, whose ancestor the Marquis of Northampton, brought the statue back from Egypt after a trip in the 19th Century.
More funding sought
Lord Northampton claimed that the council had no right to sell the statue under the terms of the gifting covenant.
The 30in (76cm) limestone figure of a court official clutching beer, bread and cake - items for the afterlife - is believed to have been acquired by Spencer Compton, the second Marquis of Northampton, in 1850 and it was later presented to the museum by his son.
After a settlement over ownership of the limestone figure dating from about 2400 BC, the statue will now go for sale on 10 July and is estimated to realise between £4m and £6m, the spokesman said.
The borough council is also seeking grant funding to support the extension project.
Council leader David Mackintosh said: "We are committed to our culture and heritage, and the central part they with play in our future prosperity.
"I believe it shows our confidence in the regeneration programme that is reshaping Northampton."