Northamptonshire police HQ free school plan criticised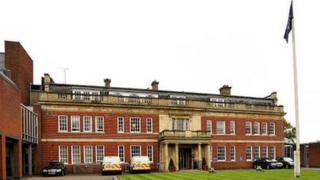 A plan to sell Northamptonshire police headquarters to a trust to turn it into a free school has been criticised by a leading county councillor.
Lib Dem leader Brendan Glynane said he had been contacted by the head of a school near the Wootton Hall site concerned about poaching pupils.
Police and Crime Commissioner (PCC) Adam Simmonds wants to sell the hall, but said plans were at an early stage.
Trustees of the new Wootton Park School said it would open by September 2016.
Classes would be at primary and secondary level initially, but a sixth form is also planned according to the new school's website.
Wootton Park School says an application will be made to the Department for Education later this month.
Looking at options
Abbeyfields School contacted the councillor about concerns over losing potential pupils.
Mr Glynane said the free school plan had grown from 300 places up to 1,400, without consultation locally.
He said: "Other parts of Northampton need new schools and Adam Simmonds worked for the county council before his election as PCC and knows the ins and and outs of local education.
"If he had consulted the county council he would have been told it was a 'no'.
"Also if he had consulted the three local schools he would have heard of their concerns about losing pupils."
Mr Simmonds said he understood the Northampton Free School Trust had plans for a school on the Wootton Hall site, but they were independent of his office.
He said he was considering the force's property needs with the chief constable, including options for the headquarters site.
He said the free school project was "not dependent" on the force headquarters being vacated.