Anxiang Du fails in sentence appeal over Ding murders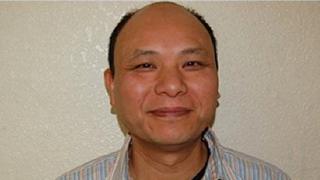 A businessman who murdered a family of four in a revenge attack has failed in an appeal against his 40-year minimum jail sentence.
Anxiang Du stabbed Jifeng "Jeff" Ding, his wife Ge "Helen" Chui, and their daughters Xing and Alice to death at their Northampton home in April 2011.
He had lost a legal case against the couple and faced a bill of £88,000.
Three judges at the Court of Appeal ruled the life sentence was "not excessive".
Du had admitted the killings but claimed he should be convicted of manslaughter on the basis of either diminished responsibility or loss of control.
'Ruthless efficiency'
A jury at Northampton Crown Court had convicted him of four counts of murder and he was jailed for life, with a minimum tariff of 40 years, in November last year.
Sir Brian Leveson told the Court of Appeal the Dings were close friends and business partners with Du and his wife, who lived in Coventry, until a dispute led to a breakdown of the partnership.
He went to the Ding family home in Wootton and demanded money from Manchester Metropolitan University lecturer Mr Ding.
When he refused, he stabbed him 23 times and his wife 13 times.
He then killed their daughters Xing, 18, who was also known as Nancy, and 12-year-old Alice.
After the killings, Du slept in the house, then stole the family's car and bought a map at a service station with the intent of finding and killing another business partner.
He could not find him and drove on to London, where he boarded a coach to Paris and travelled through Europe to Morocco.
He was recognised while working on a building site and eventually extradited to the UK in February last year.
Dismissing his appeal, Sir Brian said the trial judge's approach could not be faulted and that even more Draconian whole-life tariffs had been upheld in other cases of whole families being murdered - including that of Jeremy Bamber.
Sitting with Mrs Justice Patterson and Sir Richard Henriques, he added: "In our judgment, it is simply unarguable that the judge's assessment of 40 years is either wrong in principle or manifestly excessive."