Vulcan works plan to create 240 jobs in Northampton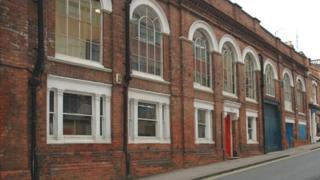 A £6.5m council scheme to turn a Grade II-listed former engineering works in Northampton into a creative industries hub, creating 240 new jobs, is going before councillors.
The plans for the Vulcan Iron Works in Guildhall Road go before Northampton Borough Council on Wednesday.
The works used to make machinery for the town's boot and shoe industry.
The council said it hoped to pay for the scheme with a European Regional Development Fund (ERDF) grant.
If the council's cabinet backs the scheme, a bid to the ERDF could be submitted by December this year and work could start in December 2015.
A report to the committee says the redeveloped site would "provide workshop, office and studio units" for small and medium-sized businesses.