Northampton Joey Ziadi needs male bone marrow transplant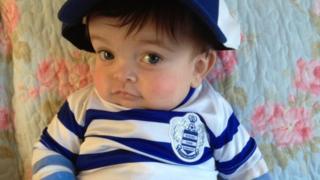 More than 70 new volunteers have come forward following a Northampton mother's plea for a bone marrow donor for her a nine-month-old baby.
None could offer a match but Kaisha Morris said she would continue looking.
Her baby Joey Ziadi is one of only 800 people in the world known to have blood disorder Diamond-Blackfan anaemia.
His best hope is a bone marrow or stem cell transplant from a male but more need to volunteer as they are under-represented in the register, she said.
Ms Morris said the response was "overwhelming" but urged more people, especially men, to come forward to increase the chances of finding a match and a cure for her son.
"A transplant would save his life. He would be able to act like a normal little child.
"He would grow up to be a teenager and an adult. He would have a really good future," she said.
Joey was born with a hole in the heart but his blood disorder was not diagnosed until he was six months old.
The appeal was made last month after Joey's sister Isabella was found not to be a match.
The Anthony Nolan Trust, which uses its register to match potential bone marrow donors to blood cancer patients in need of a transplant, said there had been an "amazing response" to the appeal.
Mrs Morris will host a donor recruitment drive at the Race for Life event at Abington Park on Sunday.