East Northamptonshire middle schools abolished in shake-up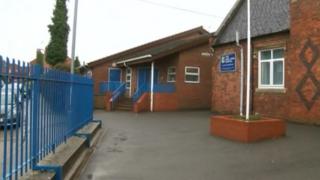 A parent campaigning to keep the middle school system in east Northamptonshire said she was "saddened" and "frustrated" it is to be scrapped.
The Conservative-run county council has approved the move to a two-tier system of primary and secondary schools.
Watchdog Ofsted has highlighted the need for improvement in the area's middle and upper schools.
Middle schools in Oundle and Thrapston will be axed and £20m will be spent on new primary school buildings.
'No evidence'
Julia Normington, who has a child at King John Middle School, Thrapston, said she was "saddened" by the decision and "frustrated" because she believed the council had not listened to parents' views during the consultation.
Another parent, Abigail Miller, said "a large body of parents in Thrapston" supported the campaign to keep the middle school system.
"There is no evidence to put our children under the sort of educational challenges that they will be faced with," she added.
Clare Morgan, who is chair of governors at Kingscliffe and Oundle Middle School, admitted "the wheel has fallen off the school over the last few years", but added "strong leadership and commitment from staff, management and parents has really turned the school around".
Cabinet member for education Matthew Golby said: "This whole process is about raising the [educational] standards in east Northamptonshire.
"It's in the lowest 30% in the whole of the country, not just Northamptonshire... and we know it's not performing.
"In the short term there's inevitably a small amount of disruption, but we will make sure no child gets left behind."
Northamptonshire County Council said it would spend £20m on expanding 10 primary schools and one secondary school to accommodate the change in the school system.
The new two-tier school system for east Northamptonshire will begin in September 2015.