Northampton baby Joey Ziadi's mother thanks donors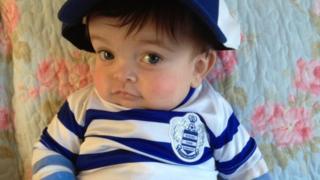 A woman said she had been "blown away" by the level of support she got after a plea for a bone marrow donor for her nine-month-old baby.
Kaisha Morris, of Northampton, said more than 550 "amazing people" attended an Anthony Nolan Trust bone marrow donor event at Abington Park.
Her baby Joey Ziadi is one of only 800 people in the world known to have blood disorder Diamond-Blackfan anaemia.
His best hope is a bone marrow or stem cell transplant from a male.
Joey was born with a hole in the heart but his blood disorder was not diagnosed until last February.
The appeal was made last month after Joey's sister Isabella was found not to be a match.
Ms Morris said "I wish I could hug" all the people who came to the latest donor-recruitment drive.
"We've been absolutely blown away by the number of people that came.
"It's amazing how many selfless potential lifesavers we have in Northampton. It was way beyond our expectations, I still can't believe it."
'Joey effect'
The Anthony Nolan Trust uses its register to match potential bone marrow donors to blood cancer patients in need of a transplant.
It said the numbers of people signing up to the register and giving a spit sample at Abington Park made it the trust's largest patient appeal event for the UK in the past two years.
Regional register development manager Sarah Roulstone, said it had shown "the Joey effect in the flesh" and the response from the local community had been "very touching".
"We still urgently need more people to come forward, especially young men as they are the most likely to be chosen to donate but are under-represented on the register," she said.