'Lost' villages in Northamptonshire legally protected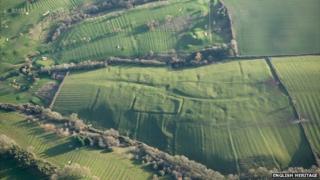 A series of deserted and shrunken medieval villages across Northamptonshire have been designated as scheduled monuments.
Little Oxendon, Walgrave, Steane, Clipston, Horton, Ashby St Ledgers and Kirby were chosen as among the best examples of so-called "lost" villages.
The government made the decision on the advice of English Heritage.
Most of the villages were first settled in the 9th or 10th centuries and are mentioned in the Domesday Book.
The earthworks - an archaeological term that describes manmade changes to the land - have lain largely undisturbed by later occupation, since the villages were deserted and then often used for grazing.
English Heritage says the archaeological features have the potential to reveal many more details about the social and economic development of the communities that once lived there.
The physical earthworks themselves show the spaces in which medieval people farmed and made their homes in the English landscape, it added.
Heritage minister Ed Vaizey said: "They are wonderful examples of the hidden heritage that exists across the UK, and will allow us to uncover the secrets of medieval society going back centuries."
Sarah Gibson, of English Heritage, said: "Northampton's abandoned villages are repositories of information about the past and archaeologists will be able to use the remains of the villages to tell us more about the social life and economy of Northamptonshire many hundreds of years ago."
The most rapid rate of decline in the villages was during the 14th and 15th centuries, English Heritage said.
Declining economic viability, the enclosure of common land, and a shift from arable farming to sheep rearing - which did not need as many workers - all played a part in the decline, according to the conservation body.
Scheduled monuments are sites considered to be of national archaeological importance that require protection from development.