Northampton General Hospital pathology staff vote for strike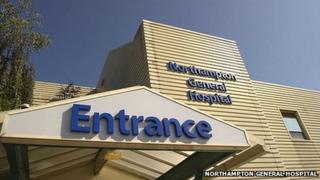 Hospital scientists have voted to strike over proposed contract changes to their hours and payment rates.
The Unite trade union said patients at Northampton General Hospital were at risk as inexperienced staff were being trained "ad-hoc" to operate equipment.
The union, which represents biomedical scientists at the hospital, said 48 out of 58 staff balloted wanted to strike.
Northampton General Hospital NHS Trust said it had to "harmonise" terms for all workers in the same pay band.
The trade union claimed new agreements meant staff could work double the number of night shifts and out-of-hours payments would be cut by up to £6,000 a year.
The hospital trust said pathology service staff receive higher on-call and out-of-hours payments than their counterparts in other departments.
Pathologists at the hospital analyse test results and also help diagnose and treat ailments.
'Disappointed'
In a statement, it said: "The NHS National Staff Council has informed NHS trusts that we must harmonise terms and conditions for all on-call and out-of-hours work so that all staff on the same pay band are paid the same amount for work of equal value.
"We are disappointed that a number of staff within the pathology service have voted for industrial action.
"This may lead to restrictions to the pathology service, however we have developed contingency plans... a high-quality 24/7 pathology service will be maintained during this time."
Unite regional officer Mick Orpin said its members had been treated with "contempt" during the 11-month dispute.
He said: "Patient safety is being put at risk because the trust is trying to force through a new strategy without giving its loyal workforce a chance to voice their concerns.
"Inexperienced staff, who have never worked in blood transfusion, are being trained in an ad-hoc manner to operate complex machines."