Drugs and a gun found during Wellingborough raids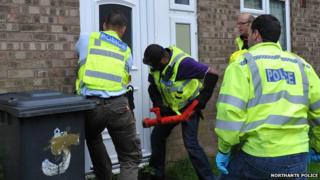 A gun and a "quantity of drugs" have been found during a series of police raids aimed at combating armed drug dealers.
More than 100 police officers took part in the raids on the Hemmingwell estate in Wellingborough at about 06:00 BST.
Det Ch Insp Nick Lyall said there had been an increase in drug dealers "using firearms to intimidate rival drug dealers and other people".
Three people were arrested on suspicion of drug offences.
Det Ch Insp Lyall added: "This was a very successful operation where we have taken a firearm and drugs off the street, which is going to make the area a safer place for people to live in."