Scheme to convert Croyland Hall in Wellingborough into flats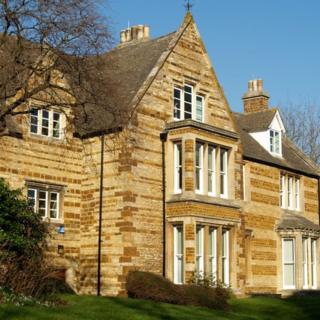 Plans to secure the future of two Grade II-listed buildings in Wellingborough by converting them into apartments for rent are going before councillors.
The £1m scheme to convert Croyland Hall and Croyland Abbey into 15 flats goes before Wellingborough Council's resources committee on Wednesday.
If councillors back the scheme, detailed proposals will go to the council's planning committee.
The council-owned buildings have been empty since 2011.
The proposals should generate about £100,000 a year in rent for the Conservative-controlled council.
Both Croyland Hall and Croyland Abbey were previously used as offices for council staff.
The buildings were left empty after the council reduced its workforce and running costs were considered too high to continue to use them.
Council leader Paul Bell said: "We'd be looking at a mixture of two-bedroom, one-bedroom and studio flats. This would give us give us some premium apartments on the ground and first floors, and preserve the Jacobean Great Parlour.
"Croyland Hall and Croyland Abbey were both originally residential. There is a high demand for places to rent in the town, so sympathetically converting these properties back into homes would help meet that demand."
The council said if planning permission was granted, the estimated £1.1m conversion costs would be paid as an invest-to-save scheme out of the council's capital budget, which is money in the bank that is used for major projects.
Croyland Abbey was the local monastic grange from which the church estate of Wellingborough was administered.
Although the present building is Jacobean with later additions, architects have found visible evidence of the earlier grange in the present structure, some of which may date back to 1281.