Hundreds of fish killed in stream by sewerage leak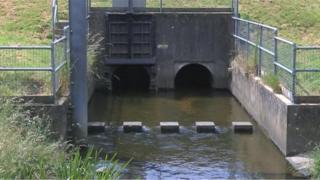 Hundreds of fish have been killed in a Northamptonshire stream following a sewerage leak, the Environment Agency has said.
It was made aware of the problem in the Willowbrook stream in Weldon on Saturday when residents noticed a bad smell and dogs were being sick.
Spokesman Greg Oakes said the impact on the environment had been "significant".
He added that water quality had since returned to normal and it was investigating what had happened.
"It would be inappropriate to say where the [sewerage] source might be because I wouldn't want to undermine any of our investigations," said Mr Oakes.
"Usually with this sort of event it's some sort of mechanical failure."
He said it could take months for fish stocks to return to regular levels.