'Tardy' John Bishop buys Northampton audience drinks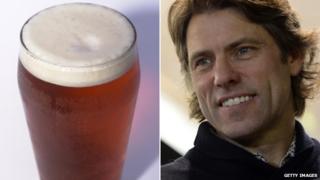 A theatre manager has thanked comedian John Bishop for buying drinks for the entire audience after turning up late for a show in Northampton.
Bishop arrived 45 minutes late for his sell-out gig at the Royal & Derngate on Friday evening after getting caught in heavy traffic.
The bill for all 474 people came to just under £1,000.
Martin Sutherland, theatre manager, thanked Bishop "for his generosity... as he spent so much at the bar".
He added: "His tour manager kept us up-to-date with John's progress and estimated time of arrival, so we were able to keep customers fully informed via our Tannoy system while they were waiting.
"On arrival John offered to buy a drink for every member of the audience."
After the show, Bishop tweeted: "Thank you to all who came to the Northampton gig.
"I apologise for my tardiness but hope you all enjoy the drink on me - cheers :-)."