Northampton battlefield site conservation plan set to be backed
A scheme to protect and conserve the site of a decisive battle in the Wars of the Roses is being recommended for approval by councillors.
The Battle of Northampton was fought in the grounds of the town's Delapre Abbey on 10 July 1460.
Yorkist Edward IV won and took the throne while the House of Lancaster, led by King Henry VI, collapsed.
Northampton Borough Council is being recommended to protect the area as a "nationally-registered heritage asset".
Earlier this year local people were asked to comment on council proposals to preserve the site.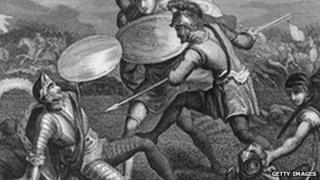 Wars of the Roses
•In 1453, King Henry VI had a mental breakdown and Richard, Duke of York, was made protector
•The king recovered in 1455, but civil war broke out between the Yorkist and Lancastrian factions, with the ensuing struggle becoming known as the Wars of the Roses
•The period was seen as a time of moral, military and political turmoil in Britain
•The death of Richard III at the Battle of Bosworth in 1485 effectively ended the Wars of the Roses
Source: BBC History
Tim Hadland, the council's cabinet member for regeneration, said: "This year we are celebrating the rich and interesting story of Northampton and our nation.
"So it seems only fitting that we are looking carefully at how we can protect the site of one of the most significant battles fought on English soil."
A report to be discussed by the council this week says a draft Battlefield Conservation Action Plan has been drawn up.
It recommends further archaeological work to locate the site of the "Lancastrian camp" during the battle.
It also calls for work to restore and conserve parts of the site.
A Yorkist army of about 15,000 led by the "Kingmaker" Richard Neville, Earl of Warwick, and the 18-year-old Edward, then known as the Earl of March, attacked between 7,000 and 10,000 Lancastrians in a fortified camp.
Artillery was used for the first time in Britain during the battle and experts believe other discoveries are possible.