Wellingborough residents given cones to 'police' school parking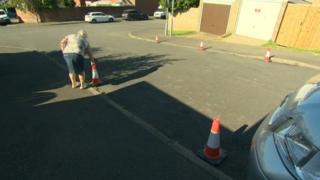 People living near a Northamptonshire school are being asked to put out traffic cones to help curb parking problems after "tireless" police efforts failed, a council says.
Wellingborough council has purchased 70 cones for residents living near the town's Redwell School.
A spokesman said people had been given two cones each to put outside their homes to protect access to driveways.
"It will only take a minute... and will help emergency services too," he added.
The traffic cones were bought with money from the county council's empowerment fund with the intention of ending "inconsiderate parking" that regularly blocks Churchill Avenue and Blaydon Walk.
Cones 'run over'
The borough council spokesman said "high levels of complaints" had been received about parking near the school.
Malcolm Waters, a borough and county councillor, said: "The police have worked tirelessly to address this by being present near the school and issuing fines and warnings, but once they move on the problem comes back."
Resident Clare Smith said the cones had "improved things a bit" but added: "We've had the cones run over which isn't very nice.
"I realise people have to park somewhere but it's just unfortunate that they all congregate around here."
One woman dropping off children at the school said: "I can understand why they're doing it and I'd be furious if anyone blocked access to my garage, but I think there are places where people can park, where they're putting cones, and it's not really necessary."
A Northamptonshire Police spokeswoman said: "We have conducted regular patrols at the school, however it is unrealistic for us to dedicate resources outside one school five days a week when we have responsibility for all schools across the town."