Egyptian statue museum: Artist Peter Newcombe donates drawings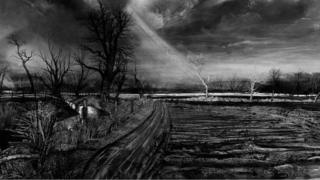 A museum that recently sold an ancient Egyptian statue for £15.76m has been given a collection of drawings showing Northamptonshire in the 1950s.
Artist Peter Newcombe has donated the 12 ink and wash drawings to Northampton Museum and Art Gallery.
The artworks cover the seasons in the county and echo the words of poet John Clare who lived his life there.
The museum sold the statue of Egyptian official Sekhemka, at Christie's of London, to an anonymous bidder.
Mr Newcombe's drawings were first exhibited in Northampton Museum and Art Gallery in 1968 and since then the artist has exhibited widely.
The drawings will be "much appreciated by visitors and scholars for years to come", David Mackintosh, leader of Northampton Borough Council which runs the museum service, said.
"As the Shepherd's Calendar drawings were shown for the first time at our Northampton Museum and Art Gallery, it somehow seems very fitting that they are to return.
"Peter Newcombe is a wonderful artist who absolutely captures the natural beauty of our county; his love for Northamptonshire shines out," Mr Mackintosh added.