Northamptonshire police and fire merger plan backed by council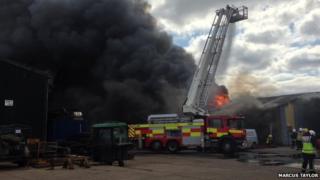 Draft plans to merge Northamptonshire's police and fire service have been approved by the county council.
The proposal was for a joint management structure within a year, with a long-term view to a full merger backed by the council and Northamptonshire police and crime commissioner Adam Simmonds.
The Fire Brigades Union said the fire service would become the junior partner and its members did not want it.
The Tory-run council said it was not about merging front line services.
The plans have been discussed by the county council's cabinet which agreed to draft a partnership agreement between the two services to move towards the Blue Light Collaboration project.
'Takeover'
The council did not put a figure on the estimated savings, but it was committed to saving £1.5m over three years from the fire service budget and the merger aimed to make management of the service more efficient.
The council and police commissioner had been given £600,000 by the Home Office to run a trial, but a full merger would require a change in the law.
Gary Mitchell, a Northamptonshire firefighter and regional secretary of the Fire Brigades Union, said: "We don't believe it's the direction the fire service should be going in.
"Firefighters in Northamptonshire do not want to be run by the police or Mr Simmonds.
"I haven't seen a business case for this proposal - all this is about is the budgets for the fire service being taken over by the police."
Andre Gonzalez de Savage, Conservative county councillor with responsibility for the fire service, said: "We're not merging front-line services and we've never said we will.
"There is a complete difference with what we are actually discussing."
A timetable had yet to be set for the move towards a merger.