Unite seeks injunction in Northampton General Hospital row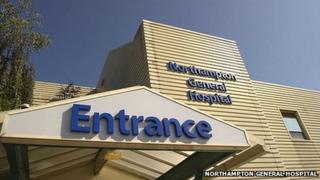 A hospital has been accused of trying to "flout the law" in a dispute with its medical staff.
More than 70 biomedical scientists and support staff are currently in dispute with Northampton General Hospital over new contracts.
The union Unite is seeking an injunction stopping the hospital using agency staff to replace the workers.
The hospital said it would "defend its right to continue to provide the pathology service via lawful means".
Unite says its affected members have been "locked out of the workplace" in Northampton since 26 June unless they sign new contracts, "accepting a £6,000 a year cut in pay, or be sacked".
The union says the hospital's use of agency workers to cover "locked out staff" was against the law, which forbids the supply of "work-seekers provided by an employment business" to perform the duties of striking staff.
'Alternative labour'
Barrie Brown, Unite national officer, said: "The trust's aim all along has been to break the morale of its dedicated staff, and now it seems it is also prepared to flout the law and risk patient safety to achieve this."
The application for an injunction has been lodged with the Administrative Court in London which will decide the matter at a later date.
A spokesman for the hospital said its lawyers had received details of Unite's application.
"As a result of the industrial action currently being taken by members of Unite, the trust has been forced to source alternative labour in order to maintain the provision and quality of pathology services within the trust," the spokesman said.
"The trust is disappointed that Unite have decided to take this legal action and is currently considering its response to the application, but the trust will vigorously defend its right to continue to provide the pathology service via lawful means."