Northampton Hospital and union reach agreement at Acas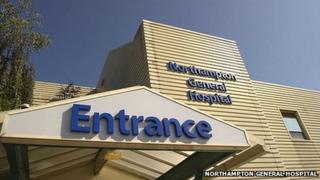 Hospital pathology staff involved in a dispute over new contracts have agreed to return to work after a meeting with the arbitration service.
Biomedical scientists and support staff have now accepted changes to contracts at Northampton General Hospital, and they will take effect from March 2015.
The Unite union and management reached agreement during talks with Acas, and staff will return to work on Monday.
A statement by the union and management said no further comment would be made.
Before the Acas meeting Mick Orpin, regional officer for Unite, said: "We have no preconceptions, but it's a step in the right direction."
Workers brought in
Staff had been asked to do more night shifts and to work at reduced rates. Some claimed the new conditions would lead to pay cuts of £6,000 a year.
Unite members were refusing to sign up to the new terms and conditions which the hospital had said were needed in order to run a 24-hour-a-day service.
The hospital said other workers had been brought in to keep the department going, and it would "defend its right to continue to provide the pathology service via lawful means".
Unite said its 55 affected members had been "locked out of the workplace", and the use of agency workers was against the law.