Great Houghton School shuts and administrators appointed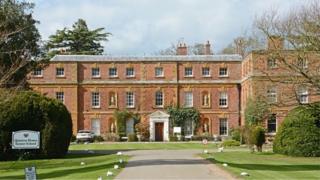 A private school in Northamptonshire with more than 360 pupils has made all its staff redundant after going into administration.
Parents with children at Great Houghton School were told last Friday that it would close.
Nearby independent school Quinton House has offered help to parents looking for places for their children.
The county council's education department has also received inquiries about availability in state schools.
Quinton House said it had receive numerous inquiries and advised parents to remain calm and consider their options.
Alarming news
Its head master Ben Slade said: "We are open throughout the summer and can offer advice and guidance to parents to help them make informed decisions about their children's futures.
"We were all saddened to hear of the closure of Great Houghton School.
"This must be very distressing news for the young people, their parents and of course for the staff who now face an uncertain future.
"I would like to convey our sympathies, support and friendship at this difficult and challenging time."
A spokesman for Northamptonshire County Council said: "Any applications for a school place will be dealt with in line with our procedures for in-year applications."
Danielle Stone, Labour's shadow cabinet member for education at Northamptonshire County Council, said: "The news is alarming and means that parents have limited timescales to organise alternative education provision for their children.
"The announcement that the Great Houghton School has gone into administration shows why the free market is completely inappropriate in education."
Administrators have yet to come forward to make a statement on the future of the school.
Also, neither the school governors nor head teacher Jane Lancaster Adlam have made a statement.
Great Houghton School, which was founded in 1955, provided pre-nursery, primary and secondary education for children aged three months up to 16 years.