Fire rips through derelict hospital site in Northampton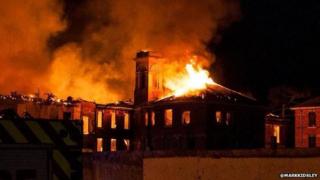 A huge blaze has ripped through a derelict hospital in Northampton.
Flames were spotted coming out of the former St Crispin Psychiatric Hospital on Berrywood Road just before 23:00 BST on Wednesday.
At its height, more than 80 firefighters tackled the blaze. Only two crews now remain on site.
People living nearby were evacuated from the area but were later allowed to return home. It is not yet known how the blaze began.
Kelvin Hallen, from Northamptonshire Fire and Rescue Service, said: "It was quite a difficult task as there are lots of surrounding properties.
"Our priority was to safeguard those people so we had to carry out a wide-scale and swift evacuation."
'Cracking and popping'
It is not thought anyone was inside the building at the time of the fire, and police were carrying out an investigation into the cause, he said.
One resident said: "We heard lots of cracking and popping at about 11 o'clock. We went out in our pyjamas which everyone was doing.
"The timbers were well alight and flames were shooting up. We could see them above the trees."