Burglar surprised by camera in Daventry home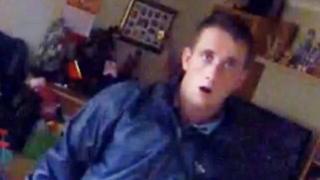 An image of a burglar who stole a security camera from a Daventry home, wrongly believing it would remove the evidence, has been released by police.
Unbeknown to him, the footage had already been captured and stored online.
Northamptonshire Police are investigating the burglary, which took place last Saturday between 13:30 and 14:30 BST.
The camera was installed by the son of the couple who lived in the home.
'Funny to see'
Phi Chong, 30, of London, installed the camera after his parents were burgled in November.
Mr Chong said: "It is funny to see his reaction when he sees the camera. I really hope this footage can help to track him down."
Cash, two watches, a camera and jewellery including a gold chain and a Buddha amulet were taken during the break-in.
Anyone who recognises the burglar has been asked to call Northamptonshire Police.