Cow causes disruption for Northampton drivers on A45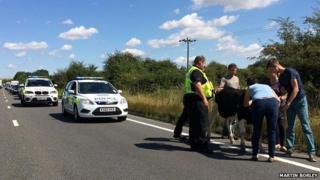 An escaped cow has caused delays for drivers on a main road in Northamptonshire.
The animal was walking on the A45 between Raunds and Stanwick at about midday causing a hazard for drivers as they slowed to avoid it, said police.
A police spokeswoman said they had "a lot of calls" from concerned members of the public.
Traffic was halted on the carriageway as officers were helped by motorists to escort the cow from the road.
It has now been reunited with a local famer.