Northampton Museum to negotiate Sekhemka-funded expansion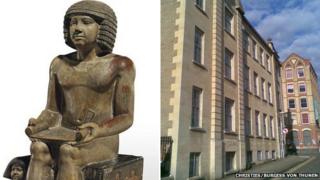 A council has begun negotiations to purchase buildings enabling it to expand a museum, despite the venue losing its accreditation status after the controversial sale of a statue.
Northampton Borough Council was penalised by Arts Council England for selling its Egyptian Sekhemka limestone statue for nearly £16m in July.
Some funds will be used to help expand Northampton Museum and Art Gallery.
The council said a larger building would "help attract additional funds".
Last month Arts Council England ruled that the sale of the 4,000-year-old statue breached the accredited standards for how museums manage their collections, meaning it was now ineligible for a range of arts grants and funding.
'No regrets'
Council Leader David Mackintosh said: "The accredited status is still in dispute and we are appealing [over] that process."
However, plans to use funds from the sale of the statue to expand the museum - by purchasing the gaol block and Guildhall Road blocks of County Hall - are set to go ahead.
Negotiations next week will include agreeing the "right price" with the county council, while acquiring independent valuations, Mr Mackintosh said.
He said he "did not regret" the sale of Sekhemka.
"I think this has been the catalyst for allowing us to do lots of things and make lots of improvements," he said.
"It's very difficult when you have to make these decisions, but I do think the money raised allows us to invest £8m in the museum service... so I think it's good for the people of Northampton."