Northampton General Hospital apologises over blood poisoning death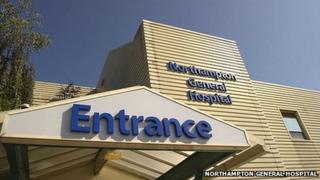 A hospital has apologised to the family of an 86-year-old woman who died after a series of medical blunders.
Irene Floyer died from blood poisoning after delays in treatment for an MRSA infection following surgery at the Northampton General Hospital in 2011.
The family of Mrs Floyer, from Flore in Northamptonshire, have received about £10,000 in a compensation settlement from the hospital.
The hospital said failings in the treatment had been identified.
Following a hip replacement operation Mrs Floyer was found to have the infection.
'Safeguards needed'
It took a further 10 days before she was taken back to theatre for the wound to be washed and the infected tissue removed. She died a week later.
Mrs Floyer's son Alex Floyer said: "Following surgery, she wasn't looked after properly.
"When the trust did finally diagnose she had MRSA there was a further delay of 10 days before they took her back to theatre to wash the wound out."
Elizabeth Floyer-Moss, Mrs Floyer's daughter, said: "Our main hope is that by exposing the mismanagement of the treatment she received, improved practices will be put in place to safeguard others."
A spokesman for Northampton General Hospital said: "We are very sorry for the failings identified in Mrs Floyer's care, and we express our sincere condolences to her family for their sad loss. We fully accept that the care we provided to Mrs Floyer in 2011 was not the best possible care that we aim to provide to all our patients.
"We have fully taken on board all areas of concern and would like to assure the family, and our local community, that since 2011 we have taken robust action to improve the quality and safety of patient care at Northampton General Hospital."