Anglian Water: Boil water advice after main bursts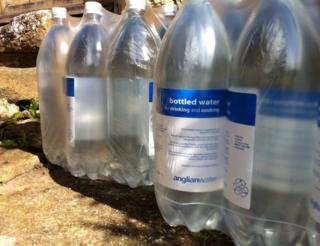 Residents of a Northamptonshire village have been told to boil water for drinks, food preparation or cleaning teeth after a water main burst.
The advice will remain in force this weekend for Upper Boddington in the south west of the county.
Tap water can still be used for washing, bathing and flushing toilets but Anglian Water said there will be a stronger smell of chlorine.
The water company apologised to residents for any inconvenience.
Extra chlorine
"Please boil your tap water and leave it to cool before using it for drinking, cooking, preparing food and brushing teeth until further notice," a spokesman said.
The advice also applies to drinking water for pets.
The firm issued the advice as a precaution following a burst water main in the area.
"Sample results showed that the water may not be up to our usual high standard," the spokesman said
The stronger smell was due to extra chlorine added to the water but this should reduce after boiling.