Killed funfair man Michael O'Brien 'spoke of dying'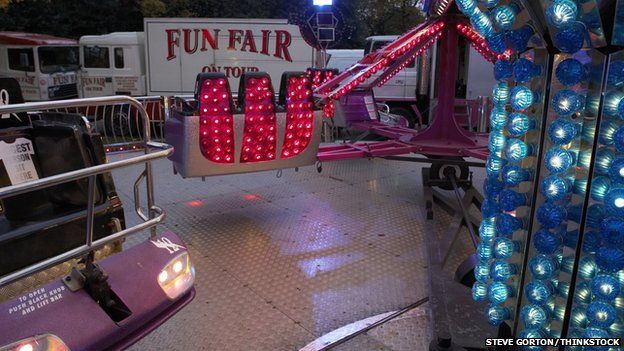 A fairground worker had talked about dying the day he was crushed to death as a ride was being moved at a park in Northamptonshire, a colleague told an inquest into his death.
Michael O'Brien, 45, from Sussex, died from head and chest injuries after he was crushed beneath a reversing lorry in Wellingborough in April 2011.
The jury heard Mr O'Brien suffered from depression but was not suicidal.
The fair was being set up by Stevens Amusements at Bassetts Park.
Fairground worker Christopher Davies told the inquest in Corby he heard a "scream of horror".
John Guest, who operated the ride and was driving the truck, said he jumped out of his cab, saw legs sticking out from under the side of the vehicle and recognised Mr O'Brien's clothing.
None of those giving evidence knew why Mr O'Brien would have been beside the ride as it was being moved into position.
Rebecca Crome, who worked on the Waltzer ride, said Mr O'Brien had previously drunk up to 24 cans a night, but had reduced his drinking recently.
She told the inquest on the day he died, he had been abrupt and "not his normal self".
She said: "He'd say something like 'I'm going to die at the fair'."
The inquest heard that he had been homeless when he had registered with his GP, Dr Nigel Lyons, in Shoreham-on-Sea in 2009.
Dr Lyons told the court that Mr O'Brien had suffered from depression, but he was not suicidal when he had last seen him.
The inquest is being heard before a jury.
Related Internet Links
The BBC is not responsible for the content of external sites.