Theddingworth energy-from-waste plan gets approval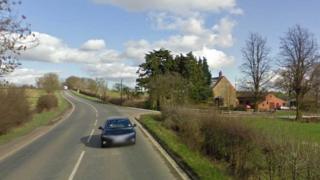 Plans to reprocess food waste and create energy have been approved, despite protests from some people living near the site in Northamptonshire.
Welland Waste Management has been given planning permission by Northamptonshire County Council for the units at Pebble Hall Farm near Theddingworth.
Campaigners opposed the plans on the grounds of smell and traffic.
They said they would consider trying to mount a judicial review.
The approvals mean the site would process food waste using a Thermophilic Aerobic Digester (Tad) and a gasification plant which bakes wood to create energy.
'Industrial facility'
The farm, which already processes waste, is on the border with Leicestershire near Market Harborough.
Fiona Wilson, one of the campaigners, said: "I'm not happy with the stink the existing plant generates and I'm very concerned about the odours from the Tad - they're going to be horrendous.
"We live in a beautiful, unspoilt part of the country."
Yvonne Dean, a campaigner from Welford, said it was an "industrial facility".
"We have to think about what we're going to do next and judicial review is on the cards and we'll raise the money to do that," she said.
Councillor Phil Larrett, chairman of the development control committee, said: "[Councillors] felt the emphasis within the national planning policy framework with regard to renewable energy was a significant factor.
"Farmers are finding it difficult and many of them have diversified and if you visit this site, there are a significant amount of industrialised processes already going on."
Welland Waste Management said it had no comment to make on its plans.