Charles Bronson jail art to be auctioned by JP Humbert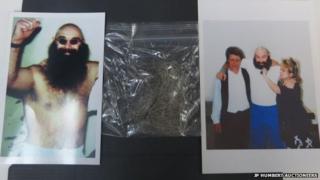 Artworks to be sold by one of Britain's most notorious prisoners have been described as having a "sense of humour" by auctioneers.
Charles Bronson, 61, now known as Charles Salvador, is serving a life sentence for robbery and kidnap.
A sale of 200 of his artworks will take place at JP Humbert Auctioneers in Towcester, Northamptonshire next month.
Jonathan Humbert said: "We're not glamorising him - it's a sale on artistic merit."
The family of the convict, who was born Michael Peterson, is offering the works for sale.
The auctioneers reported that Salvador said: "I have given this a lot of thought and I really have little choice but to kill Bronson off once and for all.
"I have become a hostage of my own notoriety - Bronson is burying any chance of me ever being freed."
'Indomitable'
Mr Humbert said: "It's a very interesting insight into the mindset of someone who's had a very alternative life which has seen him in jail for the best part of 38 years - much of it in solitary.
"The many stories these items tell is that the indomitable human condition still fights through with a clear sense of humour that prison walls cannot quell.
"The public will make up their own minds."
Earlier this month, Salvador/Bronson was sentenced for another two years for putting the governor of HMP Woodhill, Milton Keynes in a headlock.
The auctioneers said he was currently serving his sentence at HMP Full Sutton, North Yorkshire.
In June, artwork by the prisoner sold for thousands of pounds which he spent on sending his mother Eira on holiday.
The auctioneer said an undisclosed proportion of the proceeds of the sale would be given to the Brain Tumour Charity and Keech Cottage Hospice in Luton.
The auction is due to take place on 9 October.