Northamptonshire police HQ site to be home to new free school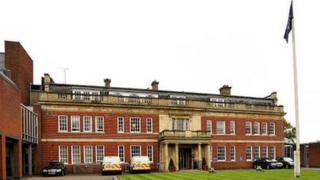 A free school is to be opened at Wootton Hall in Northampton, the site of the county's police headquarters.
The Department of Education has approved the opening of Wootton Park School on the site from September 2016.
Police and Crime Commissioner Adam Simmonds said the school would promote citizenship values.
Lib Dem county councillor Brendan Glynane criticised the plan in May because the school could poach potential pupils from others nearby.
He said Abbeyfields School had contacted him about concerns over losing potential pupils.
Mr Simmonds said: "We welcome a school that will promote police and citizenship values.
"No firm decisions have yet been made about the future of the current Northamptonshire Police headquarters on the substantial site that makes up Wootton Hall park.
"Over the next few months, feasibility studies will continue with regard to the future of headquarters and the whole police estate."
Northampton Free School Trust said the school would offer crime science as a specialism and would work closely with local police and fire services.
The Department for Education approval will allow the free school to recruit pupils from four to 18 years old.