Daventry dog attack: Forensic tests to establish breed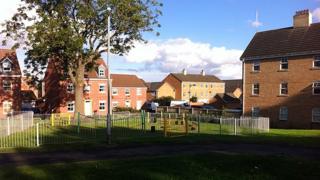 The body of a dog, which was destroyed after killing a six-month-old baby, is to undergo forensic examinations to establish its breed, police said.
The girl died at a house in Morning Star Road, Daventry, Northamptonshire, at 22:30 BST on Friday.
Her grandmother, who was looking after her at the time and tried to protect her, was injured.
Northamptonshire Police said the dog would be subject to a forensic post-mortem examination.
The animal will also be examined by dog legislation officers from Northamptonshire and a national body.
"DNA can also be taken to help determine the breed," a force spokesman said.
Conservative MP for Daventry, Chris Heaton-Harris, described the attack as "absolutely horrific".
"No-one can understand what the family must be going through," he said.
"I'm sure this will re-stimulate the debate as to whether [the] government needs to look again at the Dangerous Dogs act.
"My thoughts and prayers are with the baby's family," he said.
Conservative Daventry district councillor Chris Long said although details of the type of dog involved had not yet emerged, there could have been numerous triggers which set off the attack.
"There might be an element of jealously between the child and the dog, and the dog has power to do something about it," he said.
"Any household where there is any animal and a young child, there is always a potential risk.
"There needs to be a high level of supervision to ensure accidents don't happen."