Daventry dog attack: Neighbour complained about barking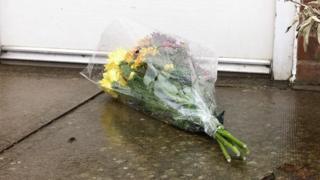 A neighbour had complained about barking at a house where a six-month-old baby was killed by a dog, a council has said.
The girl, who has not yet been named, was attacked in Morning Star Road, Daventry, Northamptonshire, on Friday.
Her grandmother, who was caring for her, was injured trying to protect her.
Daventry District Council said it received a noise complaint in May about two dogs barking and spoke to the owner "who acted to control the noise".
The Conservative leader of the council, Chris Millar, has told BBC Look East a sound monitoring device had been installed at the house and was in place for a "number of months".
The body of the dog, which was destroyed, is being forensically examined by dog legislation officers at the Royal Veterinary College in Hatfield, Hertfordshire, to find out its breed.
Northamptonshire Police said the baby's family were "absolutely devastated" and are being supported by liaison officers through an "incredibly harrowing time".
'No other complaints'
Chief executive of Daventry District Council Ian Vincent said: "We received one noise complaint in May from a neighbour relating to two dogs barking at the property.
"As with all such complaints, we spoke to the owners of the dogs who acted to control the noise to a reasonable level.
"We have not received any other complaints relating to these dogs.
"Our thoughts and deepest sympathies are with the family following this tragic incident, which has shocked and saddened our local community."
Mr Vincent said anyone with concerns about the safety of dogs should report them to the council or police.
Council leader Mr Millar said: "A very experienced officer went out to the home and put in noise monitoring equipment.
"That was monitored for a number of months and the level of noise never reached a level where it went to the next stage.
"My understanding is that the complainant said they did not wish to pursue it... and that was before this horrible incident."
Paramedics tried to resuscitate the child, who was taken to Northampton General Hospital, where she was confirmed dead.
Det Insp Stuart Hitchon, who is leading the inquiry, said: "My officers are working hard to piece together the events that led to the tragic death of a six-month-old child."
Police have said the second dog is still in the care of the family.