Wellingborough Prison to become overflow site says MP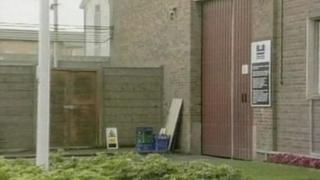 A defunct prison in Northamptonshire will be maintained as a reserve site when other jails are full, MP Peter Bone has said.
The government closed the category C Wellingborough Prison at the end of 2012 to save £10m a year.
Despite fears the site would be sold, Mr Bone said the secretary of state for justice had told him it would be used for capacity when required.
The Ministry of Justice said there were no plans to reopen the prison.
About 600 prison places were lost when the prison closed over concerns it was outdated and expensive.
But last week Mr Bone said residents had told him "work was definitely going on" at the site and former prison officers had received letters asking if they wanted to join a reserve force.
Secretary of State Mr Grayling confirmed to him in a meeting on Wednesday that the site could be used in future.
"This a very sensible move. We know that prison officers across the country are being recruited into a reserve workforce so that at a moment's notice they could come online," said Mr Bone.
"That is all very positive and makes a great deal of sense and we're in a much better position than we were when they were going to sell off the site."
The Wellingborough MP said he would continue to campaign for the site to become a more permanent London overflow prison.
The Ministry of Justice has previously confirmed it is not disposing of the building.