Northampton Town's Sixfields Stadium 'dispute' halts work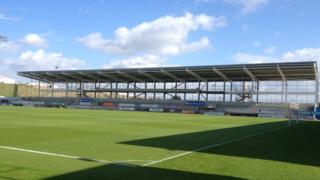 Work to redevelop one of the stands at Northampton Town's Sixfields Stadium has been temporarily halted by a "contractual dispute", the club said.
The East Stand scheme, approved in November, is expected to increase capacity for Cobblers fans from 7,653 to 10,000.
The club has now confirmed work has stopped, but said "legal matters" meant it could not give further details.
A spokesman said the club "understood the fans' frustration".
When the plans were passed by Northampton Borough Council, club chairman David Cardoza hailed it as "a momentous day".
The scheme, part-funded with a £12m loan from the council, includes a directors' box and 10 corporate boxes.
Work began on the East Stand in March, however, the club said the contractual dispute left it with "no choice" but to "temporarily" halt the work.
A club spokesman said: "We would like to apologise to supporters that updates regarding the building of the East Stand haven't been as detailed or as regular as we would wish."
The dispute "has not come as a surprise or a shock to the club, and was expected", he said.
"We understand that supporters are eager for detailed information and we also understand that in the absence of such information the vacuum is filled with rumour, counter-rumour and speculation, with nearly all such speculation incorrect."
The club will update supporters as soon as they are able, he added.