Charles Salvador jail art fetches £30,000 at Towcester auction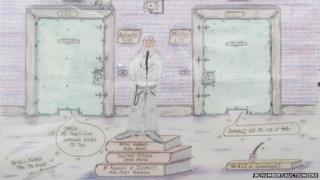 A sale of art produced by one of Britain's most notorious prisoners, together with some personal items, raised more than £30,000 at auction.
Charles Bronson, 61, now known as Charles Salvador, is serving a life sentence for robbery and kidnap.
Thursday's sale of 200 of his artworks took place at JP Humbert Auctioneers in Towcester, Northamptonshire.
Some of the proceeds will be donated to The Brain Tumour Charity and Keech Hospice in Luton.
Salvador, whose real name is Michael Peterson, has earned public notoriety with a history of violence both inside and outside jail.
The items, which included his last piece under the name of Bronson, and his first as Salvador, were put up for sale by his family.
As well as the convict's art, a script from the film Bronson was sold, and a portion of his beard, which fetched about £100.
Bids for the items came in from as far away as the US, Canada and Japan and all 200 on offer were sold, auctioneer Jonathan Humbert said.
"Undoubtedly Mr Salvador's work has now met with critical acclaim and it is good that a proportion of the sale proceeds will be going to [the two charities].
"Whilst crime does not pay, there are plenty of people willing to pay for crime-related items," he added.
Bronson changed his name to Salvador - after the Spanish artist Salvador Dali - in August, saying his old name was associated with him being "some sort of gangster".
The old Bronson had "dried up" he said, and he was now "born again as the artist Salvador".