Daventry dog death: Molly-Mae Wotherspoon's family 'paid ultimate price'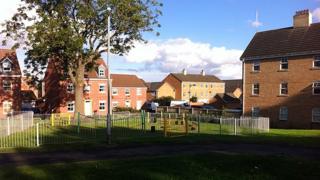 The family of a six-month-old girl killed by a dog in Northamptonshire "paid the ultimate price" for having a banned breed, a coroner said.
Molly-Mae Wotherspoon was attacked at her mother Claire Riley's home in Daventry, by an American pit bull on 3 October. She died in hospital.
Opening her inquest in Northampton, coroner Anne Pember said the girl died of blood loss from head wounds.
She said the public should be aware the breed of dog is "very dangerous".
'Complete shock'
The inquest was adjourned until 11 February.
Northamptonshire Police previously said the girl's grandmother, who was caring for Molly-Mae at the home in Morning Star Road, was injured while trying to protect her.
The dog, which is prohibited under the 1991 Dangerous Dogs Act, has been destroyed.
Ms Pember said: "The family owned an American pit bull. The public should be aware that this is classified under the Dangerous Dogs Act for the reason it's very dangerous.
"The family paid the ultimate price for owning such a dog."
A statement released by Molly-Mae's family following the death, said: "We are totally devastated and in complete shock for the tragic loss of our little princess."
A serious case review committee is to meet next month to consider if Northamptonshire's Safeguarding Children Board should investigate the death.
Daventry District Council said it received a noise complaint in May about two dogs barking at the property and spoke to the owner "who acted to control the noise".
In 2012, The Sun reported that the girl's mother Claire Riley, feared she might have to drop out of a college course to care for the dog she owned at the time, a Staffordshire bull terrier, as it kept destroying her belongings.
Northamptonshire Police has confirmed it had visited Ms Riley's house on one previous occasion, but the call was not dog-related.