Wellingborough's Glamis Hall centre could be run by campaigners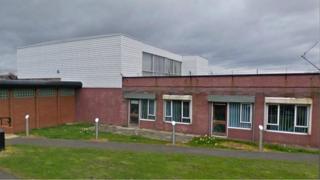 Campaigners want to take over the running of a day centre for elderly people in Northamptonshire after their bid to save it from closure failed.
Wellingborough Borough Council is to close Glamis Hall day centre in December to save £170,000 a year.
The Save Glamis Hall for All group met council leaders with a proposal for them to take over.
The group will present plans to the council to assess their viability.
The plans would need agreement from the full council.
A petition against the closure of the centre gathered 10,000 signatures.
Clear commitment
Council leader Paul Bell discussed plans with campaigners Heather Saunders and Joanne Peploe.
He said: "We were able to sit down and discuss in detail how it could work next year, and a much clearer picture has emerged."
The decision to close Glamis Hall brought strong criticism from users and carers but the council was adamant the centre had to shut.
The cost of bringing up the building to the required standard was too much, the council decided.
Mr Bell said the campaigners' "commitment and passion was clear".
"They've put a lot of thought into their plans and it's very inspiring to see," he said.
Campaign leader Mrs Saunders said: "We do understand that the council is unable to continue to run the service at Glamis Hall, and we appreciate that they are willing to help others that may be able to take it on.
"I believe that we want the same thing - for the service to carry on - and we need to work out how to make that happen."