Rare key found in mud near Tudor Lyveden New Bield is 400 years old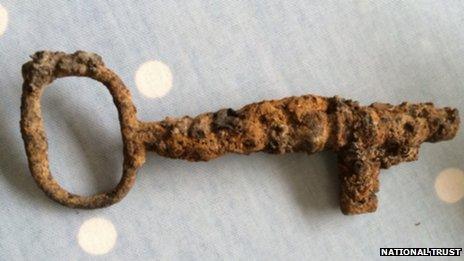 A rare key, which could have belonged to Sir Thomas Tresham - whose son was involved in the gunpowder plot - has been discovered in mud by a volunteer with the National Trust.
Zoe Wilson, 18, found the key while working in her gap year on former Tresham land, near the Grade I listed Lyveden New Bield, Northamptonshire.
She was clearing the weeds when she saw something sticking out of the mud.
The National Trust said the key dates from between 1450 and 1600.
The nearby Leaveden New Bield lodge, which has become a tourist attraction, remains incomplete since work stopped upon Sir Thomas's death in 1605.
Sir Thomas's son Francis Tresham was imprisoned in the Tower of London for his part in the gunpowder plot. He died of an inflammation of the urinary tract, also in 1605.
Ms Wilson, from King's Cliffe, said: "I saw something pointing out of the ground. I thought it was a twig and then pulled it out and saw it was a key. But I did not realise how old it was."
Rachel Hall, archaeologist for the National Trust in the East Midlands, said: "It is a really unusual find. We took it to some specialists who were able to confirm it is at least 400 years old. From a time when Tresham was living. Difficult to know for certain, but I would love it to be Tresham's key."
Ms Wilson said: "It's amazing. I never thought I'd find something that old. It is really interesting. I now want to see what else I can find - another key or a treasure chest."
Work on Lyveden New Bield, near Oundle, was started by Sir Thomas in 1604 and is steeped in the symbolism of his Catholic faith.
The house and garden remains virtually unaltered since work stopped.
A large bundle of Tresham's correspondence, hidden away at the family's principal home, Rushton Hall, was rediscovered in 1821, and given to the British Library.
There are more than 300 pages of letters, which give details of plans for the garden at Lyveden New Bield.
Related Internet Links
The BBC is not responsible for the content of external sites.