Sheep's ears bitten off in Crick farm dog attack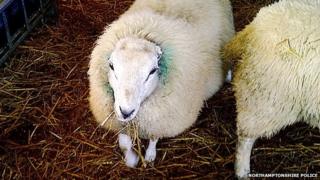 Two sheep have been seriously injured during a dog attack - with one of them having its ears bitten off.
The attack happened at a farm in Crick, Northamptonshire, on 25 October.
Northamptonshire Police believe two men and two lurcher-type dogs were involved. It is an offence for a dog to worry livestock.
Police said several reports of sheep being killed or injured had been received in recent weeks.