A43 Corby link road figures less than half predicted level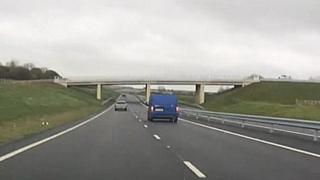 A new Northamptonshire dual carriageway is being used by less than half the traffic that was originally predicted, figures have shown.
The highest figures, which were reached earlier this month, showed on average 9,804 vehicles using the A43 Corby link road each day.
This compares with a 2011 prediction of 25,000 vehicles.
Poor signage and sav-nav companies not updating their software have been blamed by the county council.
'Not good enough'
The £35m four-mile-long road opened in May. It bypasses Geddington and runs from the Barford Bridge roundabout on the A6003 - north-west of Kettering - to the A43 Stanion roundabout south-east of Corby.
County council figures show that traffic has steadily risen on the road from 7,083 vehicles a day when it opened to just under 10,000, but it is still less than the 10,535 vehicles that continue to drive through Geddington each day.
The number of lorries going through the village however has almost halved to about 600 a day.
Some residents have told BBC Northampton the traffic in Geddington is still very heavy during rush hour and continues to leave them with sleepless nights.
Northamptonshire County Council leader Jim Harker, who lives in the village, pledged to tackle the issue, saying: "The figures going through Geddington have dropped significantly... but that's not really good enough.
"It is a new road which is bringing a lot of benefit to Geddington, but frankly there's still some work to be done as far as signage and sorting out things like these misnomers on the sat-nav to make it even more efficient."