Northampton station opening delayed by power supply issues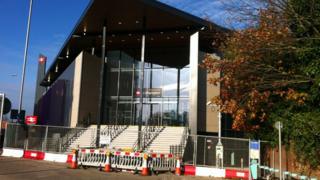 The opening of a £20m railway station redevelopment has been delayed by more than a month.
Northampton station's new building was due to open on 6 October but has been delayed by "unforeseen contractual issues" with power supply, Network Rail said, apologising to passengers.
The station, named Northampton Castle, replaces the existing 1960s building.
Sally Keeble, president of Northampton Rail Users' Group, said "heads needed to be knocked together".
"It is very frustrating for people to go there, see a new building and not be able to use it," she said.
"It is a great shame. What should be a cause of jubilation is being spoilt because of a contractual dispute."
'Tremendous improvement'
Conservative MP for Northampton South and rail users' group chairman, Brian Binley, said he believed the situation may be outside of Network Rail's control.
He said it would be frustrating for passengers not to be able to use the new station, but added: "It is going to be a tremendous improvement on the old 'shanty town' station."
The leader of Northampton Borough Council, councillor David Mackintosh, said: "The new railway station will be a great asset for Northampton, so of course it is very frustrating that the opening has been delayed."
Work will not start on the demolition of the old station building until the new one, much larger in size, is opened.
Construction of a 1,300 space multi-storey car park will also begin at that stage.
A Network Rail spokesman apologised for the delay and said its "legal team" was working on the power supply issues.
He said it was due to open later this month, with an official unveiling set for February.
Train operator London Midland said the delay was out of its control.
The renaming of the station from Northampton to Northampton Castle was announced earlier this year, attracting criticism over its £200,000 cost, branded a "shocking" waste of money.