Thirteen people found after driver hears banging in lorry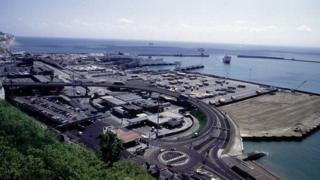 Thirteen people have been detained after a lorry driver heard banging in the back of his vehicle.
The group, which included a pregnant woman and a child, was found in the lorry at Daventry International Rail Freight Terminal in Northamptonshire.
The group, consisting of 12 Iranians and one Iraqi, is being moved to immigration accommodation.
The Home Office said it would take action to remove anyone who did not have a legal right to remain in the UK.
The lorry was travelling from Dover to the terminal in Crick when the driver heard banging at about 15:05 GMT on Thursday.
Police found 12 adults and one child hidden inside. It is believed they had been in the lorry for one to two days.
The pregnant woman was taken to hospital after complaining of feeling unwell, but later returned to her family.
Home Office Immigration Enforcement was contacted by Northamptonshire Police after they attended the scene in Crick.
Eight men, seven from Iran and one from Iraq, remain in police custody pending their transfer to immigration accommodation.
Four other Iranians, a man, two women and a child, have already been transferred.
A Home Office spokesperson said: "We work closely with police to tackle illegal immigration.
"Where someone is found to have no legal right to remain in the UK we will take action to remove them."