US fraud case man Paul Dunham faces medical bill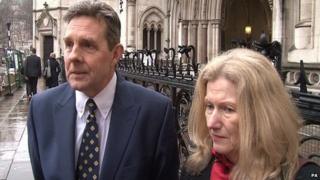 A businessman awaiting trial in the US has been told the UK Government will not pay for his medical treatment.
Paul and Sandra Dunham, from Collingtree, Northants, were extradited accused of expenses fraud at the US company they used to work for.
Mr Dunham, 59, was fitted with a heart monitor but the batteries are failing and it needs replacing.
The Foreign Office said it was unable to help with a medical bill that would be in excess of $10,000.
The couple face trial over allegations of business expenses fraud and money laundering. They deny the charges.
Mr Dunham's health deteriorated before they left the UK and he had a heart monitor fitted.
He said a new monitor would cost between $10,000 and $15,000.
The pair were freed on bail by a court in Maryland until the start of their case and are currently staying with friends in the US.
They are not allowed to work in America and instead appealed to the UK Government for help with Mr Dunham's medical costs.
The Foreign Office has suggested Mr Dunham take up private medical insurance.
Mr Dunham said: "It is just extraordinary that supposedly sensible people could be making suggestions like this.
'They don't care'
"Words cannot describe how angry it made me.
"They either have no idea how difficult that would make life or they just don't care."
A spokesman for the Foreign Office said it is providing consular assistance to the Dunhams.
In a statement it said: "The government cannot fund the healthcare of British nationals when they are overseas in countries with which we have no reciprocal agreement, such as the USA."
The allegations centre on Mr Dunham's time as chief executive and president of Pace, a US company manufacturing soldering irons. Mrs Dunham, 58, was director of sales.