Treasury guarantees Northampton University campus plan loan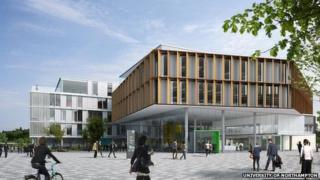 A loan to cover most of the cost of a £330m campus for Northampton University will be secured by the government.
The Treasury said it will guarantee borrowing of up to £292m for the Waterside project which will see the university move from sites in St George's Avenue and Boughton Green Road to Nunn Mills Road.
The campus is due to open in 2018.
Vice Chancellor Nick Petford said the decision was "a massive step forward" for the development.
Plans unveiled in October show the scheme also includes sport facilities and shops, which will be open to the public.
Mr Petford said: "Our new Waterside Campus will help to continue the transformation of our institution into a world-leading centre for education, research and social impact."
The university, which specialises in subjects including engineering, psychology and leather work, hopes the move to the 55-acre (22 hectares) site will increase student numbers from the current 15,000.
Construction is due to begin in 2015.