Lauren Eley 'did not jump' from Northampton car park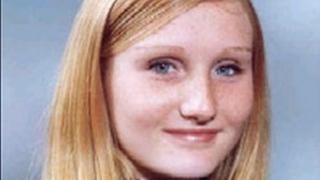 A teenage girl who died after falling from a multi-storey car park 10 years ago told paramedics she had not jumped, an inquest has heard.
Lauren Eley, 17, was still conscious when an ambulance arrived at the Grosvenor Centre in Northampton in 2004 but died later in hospital.
Paramedic Anya Donald said the girl told her: "I didn't jump".
Northamptonshire Coroner Anne Pember, sitting at Northampton Coroner's Court, recorded an open verdict.
The inquest was told police could not rule out her death was assisted by another person.
The court heard paramedics found the teenager lying on the ground with "very serious injuries" just after 14:00 GMT on 11 December.
Mrs Donald said she held her hand and asked her if she had jumped.
The paramedic said Lauren had a finger shaped bruise on her neck, and a pathology report recorded she had marks to her hand. She added the injuries could have been sustained in the fall.
Break up
Giving evidence, Miss Eley's ex-boyfriend Christopher Pearce said the pair had spent the night before her death together but had broken up a week before.
He said they travelled into town together in the morning but he left her at 12:30 GMT and went shopping before going to meet his new girlfriend, Sophie Carr.
Ms Carr said she was interviewed by police three and a half years later and could not remember what time he met up with her.
Mr Pearce said Miss Eley had made an attempt on her life in the time he knew her.
But a statement from Miss Eley's friend, Naomi Barker, said: "At no time would Lauren have ever considered suicide especially jumping from a multi-storey car park.
"She did not appear depressed, she was happy and popular."
The inquest continues.