David Cameron: Sandwich plan shows need for immigration control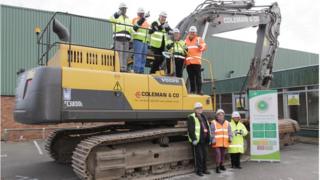 A sandwich firm's decision to hire workers from Hungary shows the need for "immigration control" and "welfare reform", the prime minister has said.
Greencore Group has started to recruit staff from Hungary for its new Northampton factory due to "very low unemployment" locally.
Northampton North MP Michael Ellis raised the issue at Prime Minister's Questions.
David Cameron said a "strong immigration policy" was vital.
After concerns were raised about recruiting Hungarian workers, the firm said it still intended to attract local labour.
Conservative MP Mr Ellis said: "On the subject of immigration, Greencore - a very large sandwich-making company in my constituency in Northampton North - are already employing 1,100. It's expanding massively thanks to this government's long-term economic plan.
"But there were reports last week that they were looking to hire staff from Hungary.
"Isn't it right that whereas Labour want untrammelled immigration and that's what they gave this country for 13 years, the message for the people of Northampton, and for Rochester for that matter, is that it's thanks to this government that there are jobs in this country for people from Northampton and we would be a bacon butty short of a sandwich platter if we forgot that."
Mr Cameron responded: "The case of Greencore shows that what you need is not just proper immigration control, both within the EU and outside the EU, but you also need to see welfare reform so that it's not an option for people to live on welfare when they could work and you also need to see, as we are doing, education reform, so young people are leaving our schools and able to take on the jobs that are available."